Parent Teacher Community Committee Update 8 June 2018
Congratulations to all the students, teachers and parents for another successful school year. As a relatively new PTC, we are constantly looking for ways to support our wonderful students and teachers with additional activities to enhance the learning environment at GEMS World Academy (Singapore).
The year began with our Think Pink bake sale, where we raised funds for breast cancer awareness and held a vendor fair for all students and parents to come together to support this important cause.
We held final Teacher & Faculty Appreciation afternoon for all the staff and teachers on the 12th June.
This year, we combined Language Week with Cultural Day, where we had over 20 nationalities represented by our parents. They went above and beyond, putting on the most delicious food fair showcasing each of the represented nationalities, allowing our community to be immersed in the languages and cultures of our diverse community.
During Book Week, and in conjunction with the Scholastic Book Fair, the PTC hosted a 'previously-loved' book sale, which was open to students, parents and teachers, in support of a local charity.
We also had a fantastic GEMS PTC Family Fun Day where children, parents and teachers enjoyed festivities, food and had a lot of fun!
To all members of the PTC, and to everyone who volunteered to help throughout the year, thank you again for your continuous support, together, we definitely achieve more! 
Families, teachers, and staff are the backbone of our strong and supportive community at GEMS (Singapore), and it has been immensely rewarding serving on the PTC this year.
We hope you enjoy your summer vacation with friends and family, and look forward to seeing you all next school year!
GEMS PTC 2017/2018
Lisa, Kameni, Kathleen, Meera, Claire and Jola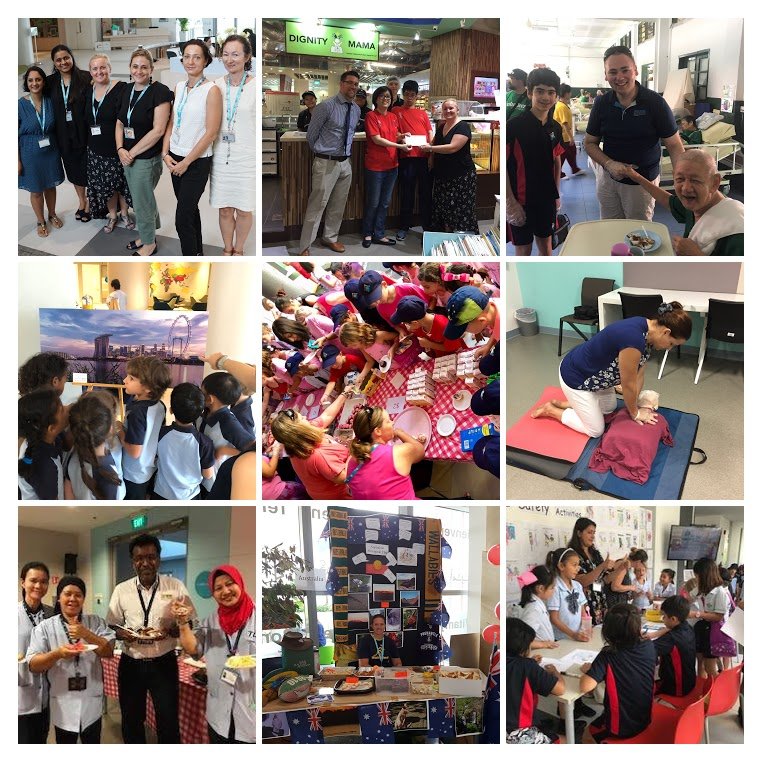 WELCOME CINDY TO THE PARENT RELATIONS DESK
GEMS (Singapore) is pleased to welcome Cindy Tay to our Parent Relations team.
Cindy comes with 4 years of experience working in schools and summer camp programmes. She will be working with Shelley at the Parent Relations desk. Please introduce yourself to Cindy, who is located in the Main Lobby area.
Feel free to contact Cindy at c.tay@gwa.edu.sg
---
THE 2018/19 PTC MEMBERS:
We are happy to announce that all the positions for the Parent Teacher Committee have now been filled for the new academic year. We look forward to strengthening the parent community at school and planning is already underway for many exciting events for the new year.
Lisa Poggi – President
Serena Lai – Deputy President
Meenu Wahl-Devlin – Secretary
Jola Kuc-Borowska – Treasurer
Claire Venter – Communications Officer
Niki Kotsaftis – Grade Pre-K – K2 Engagement Officer
Valerie McDonald – Grade 1 – 5 Engagement Officer
Maria Rinaldi – Grade 6 – 8 Engagement Officer
Kameni Kotecha – Grade  9 – 12 Engagement Officer
Kerry Player – Canteen Committee Representative
---
SPECIAL OFFER TO GEMS FAMILIES
Book your family photo shoot in the month of June with Ashley Mak. Quote #gemspta when making your booking and pay only $200 for a 20-minute photo session.
---
Kind Regards,
On behalf of: The GEMS Parent Teacher Community